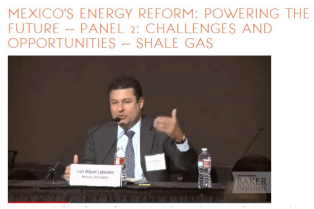 On the occasion of his participation as a panelist at the conference held at Rice University,[1] we had the opportunity to speak with Luis Miguel Labardini, who came from Mexico City to participate in the panel on the outlook for shale gas in Mexico. His key point was that Pemex will not develop Mexico's 550 Tcf of shale gas resources, as it such investments do not bring the return to equity compared to opportunities in shallow water.
Labardini, Energy Consultant, has been involved in the Mexican oil sector for two decades, and has been a partner in the consulting firm Marcos & Asociados. In the Salinas Administration he initially served in the Mexican Finance Ministry; from 1990-95 he was an advisor to the CFO of Pemex. He was a Fulbright Fellow, and he has graduate degrees from Yale and MIT.
Inquiries: News@Energia.com.