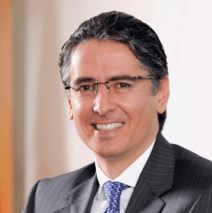 FRANCISCO SALAZAR is a commissioner and president of Mexico's Energy Regulatory Commission (CRE), a position that he has held since December 2005. The CRE is a federal agency that plays key roles in the operation and expansion of Mexico's energy sector.
The present interview was prompted by his testimony before the Mexican Senate on October 23, 2013.1 Before turning to the interview itself, it will be helpful to present a one-page introduction to the CRE's history, mandate and leadership.
In 1995, this federal agency began with a narrow mandate with a narrow mandate to regulate natural gas transportation, distribution and storage. In relation to distribution, the CRE was charged with defining and awarding a franchise to the winner of a public tender. Since then, its mandate has expanded to include petroleum products, as well as an evolving role in the electric sector.
The CRE's website contains institutional and regulatory news and history (www.cre.gob.mx). A section in English gives an overview of the functions and organization of the agency.2
The CRE has benefitted from stable leadership. Second only to CFE, the federal power utility, among agencies in the energy sector the CRE has had the least turnover of chief executives. Unlike the Energy Ministry (SENER), which, in the Fox administration (2000-2006), had four energy ministers, and unlike Pemex, which, since 1995, has had seven directors general, since its beginning the CRE has had only three presidents who, also, serve as commissioners.
Each of these CRE presidents has faced special challenges and has brought to the job very different personalities and management styles. The first president, Héctor Olea (1995-2000), was strident and assertive in his dealings with prospective investors in gas transportation pipelines and LDC franchises.
The second president, Dionisio Pérez-Jácome (2000-05), brought a soft-spoken, managerial style. Francisco Salazar, twice-elected to the Lower Houston of Congress (1997 and 2003), was tapped in 2005 to lead the CRE (and was reconfirmed in 2010 for a second five-year term). He brings the poise and temperament of a legislator who is accustomed to asserting his views in public debate while remaining attentive to the dissenting views of others.
Each of these officials confronted distinct issues and challenges. It fell to Dr. Olea to roll out a netback pricing mechanism for natural gas, which he did with the consulting support of his former mentors at Rice University. He also had to devise a framework for public tenders for natural gas distribution franchises. Under his watch, the first public tenders were held for Mexicali, Monterrey and Mexico City, more than a dozen in all. In addition, the CRE was mandated to issue a permit to PGPB to operate Pemex's National Gas Pipeline System. The CRE had to certify that issues of maintenance, capacity, reliability and the like were fully documented; it turned out to be a big task to assemble and order the needed information.
Dionisio Pérez-Jácome urged industrial consumers of natural gas not to over-react to the so-called ENRON crisis, during which over a period of six months natural gas prices rose to US$10/Mcf, more than double the ten-year average price of $4. On his watch the ugly head of LPG opposition to natural gas distribution appeared, a situation that stopped further expansion of the local gas franchises and which still exists today, as in Guadalajara. He also had to deal with thorny legal and political issues having to do with the siting of LNG facilities, notably in Baja California.
Francisco Salazar is a chemical engineer by training with a graduate degree in economics from London School of Economics. It falls to him and his fellow commissioners and senior staff to reposition the CRE within the framework of a new energy reform.
1 His Senate testimony and that of CRE Commissioner Francisco Barnés were critiqued in MEI Report 769, "CRE Overflight of Energy Reform," issued Nov. 17, 2013. The testimonies are also available on the CRE website.
2 http://www.cre.gob.mx/documento/ingles.pdf
Inquiries: News@Energia.com.