THERE ARE GAPS IN INTERNATIONAL LAW AND POLICY in relation to the access to markets, credit, technology and minerals in the Greater Gulf of Mexico that includes the U.S., Mexico and Cuba. With the aim of gaining insight regarding Cuba's place and outlook in the Inter-American community, we interviewed Johannes Werner, who is the founder and editor of CUBA STANDARD, a digital publication available on www.cubastandard.com.
Our interest was primarily in the outlook for a common regulatory and commercial framework for the Greater GOM. This interest, in turn, had been informed by several discussions in Mexico in 2012 with officials from the Cuban Embassy. One of these had remarked that Cuba was at a terrible disadvantage in relation to its ability to respond to a major oil spill: "90% of the technology and resources that would be needed are in the U.S. Gulf Coast."
We were also motivated to seek perspective on a Houston presentation on October 18, 2013, by Ambler H. Moss, a former ambassador and a prominent academic presence at the University of Miami.
The interview was the second in recent memory that touched on Cuban affairs. A previous interview was with Ricardo Pascoe, who, during the early years of the administration of Vicente Fox (2000-06), was Mexico's ambassador to Cuba.1
The interview with Johannes Werner was conducted on the telephone and by email.  The conversation turned out to be mainly about the changing attitudes and economic and political pressures that are affecting the U.S. trade embargo.
Based in Tampa, Florida, Mr. Werner has covered Latin America and the Caribbean for U.S. and European media since the early 1990s and reported on Cuban affairs since in 1998. He has earned master's degrees (Magister) in Modern History and Latin American literature from Freie Universität Berlin. In the course of covering Latin America and business for a variety of U.S. media outlets, has earned numerous journalism awards. He also hosts a radio show on Latin American affairs, Florida Caribe, on WSLR 96.5 FM in Sarasota, FL (florida-caribe.podomatic.com).
1 http://www.energia.com/interview-with-ricardo-pascoe-political-analyst-diplomat-congressman/
MEXICO ENERGY INTELLIGENCE (MEI).  What is the market niche of Cuba Standard? Is it strictly an online portal about business and politics, or does the business model of your enterprise include consulting or other activities?
JW: Most of the English-language coverage of Cuba gets hung up on political conflicts. Cuba Standard was founded with the idea to fill the gap of economic and business coverage. It turns out there isn't even an independent Spanish-language medium doing the job we do. Our readership is global: the biggest markets in terms of readers are, in order, Havana, New York, Miami, London, Toronto, Washington, Mexico City, São Paulo and Madrid.
One of our main achievements, in my opinion, is that Havana has become our No. 1 market. Our regular readership includes not only foreign businesspeople and diplomats in Cuba, but also Cuban state company executives, ministry officials, regular Cubans, and a growing number of emerging private business owners. Even members of the Castro family read us. While we have focused exclusively on providing news and information, we are now expanding into offering data on the Cuban economy, as well as organizing events. As for the future, we plan to offer consulting services.
MEI: To us, and to Juan Carlos Zepeda, the president of Mexico's National Hydrocarbons Commission (CNH), the future of the Greater Gulf of Mexico in relation to oil and gas activities should be one in which there are common standards of regulation, enforcement and environmental and safety standards. Admittedly, we are a long way from having such standards.
Environmental damage of the scale of the blow-out of BP's Macondo well in 2010, and which occurred in U.S. federal waters, could have occurred elsewhere in the Gulf of Mexico, in the federal waters of Mexico or Cuba. But the technology and resources that exist along the U.S. Gulf coast are not found in either Mexico or Cuba.
Further, by intent, the Marine Well Containment Company (www.marinewellcontainment.com), which was founded as a collaborative venture after the Macondo accident, restricts its responsibility to U.S. waters. The executive committee determined that it would have insufficient recourses to attend simultaneously to blow-outs in Mexican and Cuban waters. Another institution set up after Macondo was the Center for Offshore Safety (www.centerforoffshoresafety.org); but this new body has not yet determined if Pemex or CubaPetróleo (CUPET) could be members.
JW: Of course, Cuba's situation is quite a bit different from that of Mexico.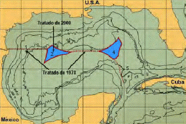 MEI: Yes, and we are hoping that you can help us understand some of these differences. But let me start by pointing out one place where the interests of the three countries meet: it's a no-man's land 200 miles offshore each of the three countries that is known as the "Eastern Gap. " Many miles away to the west you come to the "Western Gap," where the U.S. and Mexico in 2000 concluded a treaty by which the area was divided between the two federal jurisdictions. [See map.2]
2 Lourdes Melgar, "Los yacimientos transfronterizos de México," México, D. Foro de Debate sobre la Reforma Energética, 5 de junio de 2008.
Inquiries: News@Energia.com.