In our Market Note 153 we described the problem with Spanish is as much a matter of learning to listen as it a matter of learning to speak. And we showed how "learning to listen" is not only a matter of listening but a matter of knowing what to listen for.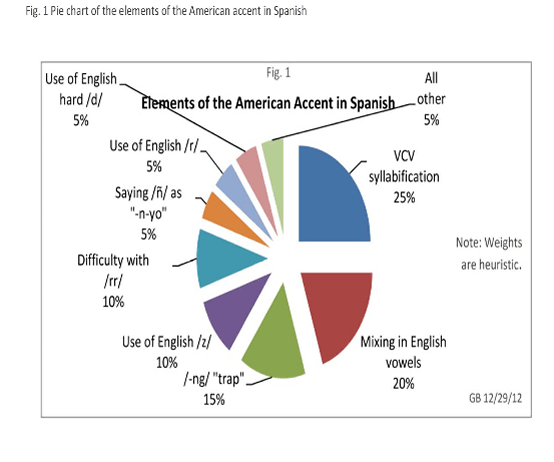 The word "tengo" illustrates our point that you need to know some concepts from linguistics to know how to listen as well as to speak. The "eye" of the native English speaker will see this word as "teng-go". Why? Because /-ng/ is a phoneme in English. That obvious pronunciation happens to be wrong, however, as there is no /-ng/ in Spanish. The word is pronounced correctly as "ten-go". So we call it the /-ng/ "trap," and we imagine that it accounts for 15% of the American accent in Spanish.
A pronunciation error of greater weight (25%) is misunderstanding the pronunciation of the "Intervocalic Consonant" (VCV) in Spanish. Unlike English, the rule in Spanish is that the consonant only applies to the second vowel: so "Pemex" is pronounced /Pe/+ /mex/, not "Pem-mex".
The VCV rule also applies between words: "Los Angeles" is pronounced, by Spanish rules, /Lo-sángeles/.
There is also the Spanish 'r', a letter that refers to two sounds, depending on where you find it in a word: At the beginning, 'r' is pronounced as the trilled /rr/, while in the middle and ends of words or syllables it is something else entirely.
There is no English /z/ sound in Spanish: it is sounded either as an /s/ or (in Madrid) /th/ (θ).
Three of the five Spanish vowels are not in English; but you need someone to sound it for you in order to hear the difference: /I, o and u /
The accumulation of such small errors of listening and pronunciation add up to the American (or English) accent in Spanish.
Our reports No. 110 and No. 153 ("Overcoming the American Accent in Spanish") offer a discussion of how a familiarity with basic concepts from linguistics can serve to improve one's listening and speaking ability in Spanish.