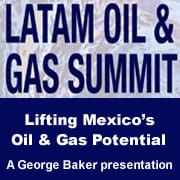 Energy reform in any country with a National Oil Company (NOC) should include these goals:
Lift the career potential of oil professionals.
Devise an oil regime with these characteristics:
Offers its NOC the opportunity to operate outside of its home country, in equity associations with top-tier IOCs;
Offers IOCs investment opportunities with materiality, transparency and legal and fiscal stability;
Captures the direct and indirect benefits to the local and national economies, infrastructure, and regulatory and educational institutions.
Promotes company formation, technology transfer and R&D; and
Strengthens energy security.
Many of these topics were touched upon in the presentation by George Baker at the opening session of the BN Americas Oil & Gas Conference, which was held in Houston September 11-12, 2013.