Mexico's Energy Sector in 2016
MEI Report 835
Houston, January 31, 2017
This report surveys developments in Mexico's energy sector in 2016, taking note of high-level personnel changes and institutional and commercial developments. Most of our attention was placed on understanding the farmout strategy that Pemex announced in mid-July and that became the basis for the auction on Dec. 5 of a working interest in Pemex's Trión lease.
In relation to the electricity sector, we prepared a Bilingual Glossary of Mexico's Power Industry for the Gulf Coast Power Association. We also prepared several reports related to bilingual proficiency, with reference to challenges in Mexican Spanish.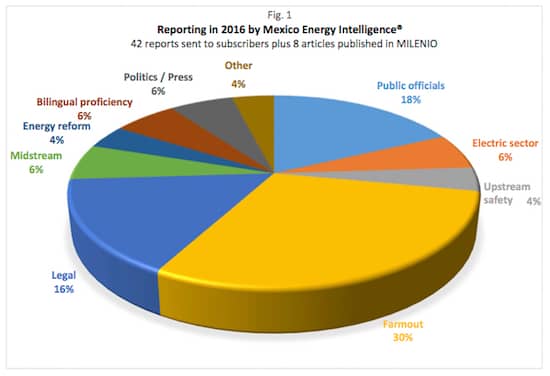 We conclude that the energy reforms of 2013-16 represent a transitional regime. In Table 1 we suggest features of the upstream regime to follow this one. We observe that offshore safety in Mexico would be better today had the government not let four years go by after the Macondo incident in 2010 to make an institutional commitment to public oversight.
To download selected pages of this report, click here.
To inquire about subscription options, click here and complete our Contact Us form.