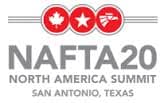 The mechanical marketing on the calendar of 20 years since the signing of NAFTA makes me remember the title of a report that we published in 2004: NAFTA: A MIXED SUCCESS AT 10—ABROGATED AT 15?
I'm recalling, also, how, during a visit to the Mexican Finance Ministry in 1991, Professor James Wilkie (UCLA) and I were informed by an amiable under-secretary that the ministry had changed its national accounts: where, before, maquiladora (in-bond) trade was in a separate statistical category known as "border transactions," in the future all imports and exports of parts and finished goods would be treated in the same categories as exported oil and imported wheat.
The meaning of that change was alarmingly clear:
1)      Mexico was getting into the game of double-counting. Mexico's trade status with the U.S. would artificially jump, as each component imported would be counted as if reflected domestic demand, when, in reality, the same component would be exported in a finished or semi-finished product.  You can verify this yourself by looking at Mexico's trade statistics for the first half of the 1990s.
2)      Mexico's political importance as a "trading partner" with the U.S. would rise as a coefficient of rising trade statistics, giving additional weight for the negotiation of what, at that time, was a Free Trade Agreement (FTA) with the U.S.
3)      The importance of Pemex's oil exports would correspondingly decline, giving the impression of a more diversified economy than would have been possible under the previous national accounts.
4)      The Mexican government would no longer have a clear statistical picture of what was going on in the core (non-maquiladora) economy, as non-maquiladora trade of arms-length transactions would be mixed with data from intra-firm trading: GM selling to GM, Cemex to Cemex.
It became clear to me only later that the US interest in an FTA with Mexico was driven by the obsession of the Bush administration to create the impression of a regional trading bloc that was comparable to the one being formed in Europe. The policy driver was PR and geopolitical advertising, not any real interest in Mexico.
It would be difficult to know what the good governor from Arkansas was told or believed about Mexico, a country with which he was as familiar as he might have been with Norway or North Korea. Trusting his political instinct for publicity, he promoted the agreement, for better or worse. One facet of the "or worse" side of NAFTA is that the U.S. and Canadians allowed themselves to be enablers of politicians in Mexico who lacked the courage in oil policy to do in 1992 what the current Mexican leadership is doing in 2013, a generation later.
With this perspective, the statistically meaningless statement in the WSJ opinion piece (December 16, 2013) by Mack McLarty, a former Clinton advisor, can be better appreciated:
The U.S. exported more last year to Mexico than to Brazil, Russia, India and China combined; and more to Canada, with 35 million people, than to the European Union, with 500 million.
Our guess is that upwards of 75% of these products from Mexico and Canada are returned to the United States as finished and semi-finished goods. No one knows for sure.
To buy this report or subscribe to Mexico Energy Intelligence®, contact sales@energia.com.