A panel on the outlook for Mexican oil was held in Houston on May 15, 2013, as an element of the 8th Global Energy Conference sponsored by MAYER • BROWN law firm.
There were two speakers on the panel, which was moderated by Mayer Brown's Pablo Ferrante: Duncan Wood, director of the Woodrow Wilson Center in Washington, DC, and George Baker, publisher of MEXICO ENERGY INTELLIGENCE.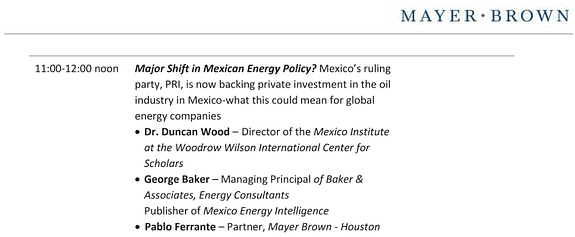 Dr. Wood presented the case as a political scientist, arguing that the recent string of reforms in Mexico augurs—most recently, education—well for the likelihood of a serious energy reform. He cited PRI Sen. David Penchyna, who has said that "a big reform will take as much time in the Congress as a small one; so let's go for the big reform."
In one of Dr. Wood's slides, the question is raised: Is constitutional reform necessary?
Dr. Baker insisted that what is missing in Mexico's oil sector is private economic incentive, the creation of which is possible only with the existence of a private, oil mineral interest. In his slides, he indicated where and why some of the language and concepts of Constitutional Articles 25, 27, 28 and 134 need to be rewritten to achieve a market dynamic.
Off-line, Baker said that he doubted anything big could be accomplished without changing the National Oil Narrative, that is, the way Mexicans talk and think about the country's oil patrimony. But Dr. Wood feels strongly the government is not going to try to reorient the expectations of the normal voter in relation to the oil narrative. "The EPN administration is going to engage in closed-door negotiations, and they will not announce any reform without a firm commitment of supports of the necessary votes in Congress."
A media report on the panel was published the next day in E&E Publishing Service with the title:
Stunning political victories in Mexico could make oil reform a reality
(Thursday, May 16, 2013).
Nathanial Gronewold, E&E reporter
Duncan Wood, director of the Mexico Institute at the Woodrow Wilson International Center for Scholars, noted during a presentation that the PRI once was ardently opposed to revisions to laws and constitutional directives that put all of Mexico's oil and gas wealth in the hands of the state. The fact that President Enrique Peña Nieto has publicly made energy industry reform a top priority is a strong indication that something will change this time around, he said.