Calendar Alert: July 11, 2013 — Pemex to award six blocks in Chicontepec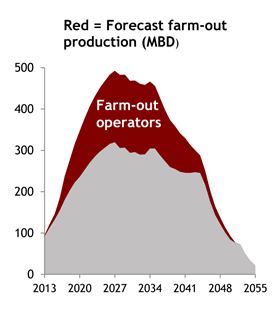 The term "farm-out" (or "farmout") is used in the oil industry to refer to a contractual relationship by which a holder of mineral rights grants to a third party the right to develop a portion of his acreage in exchange for an interest in the revenue stream from production (if any).  In this arrangement, the owner of the mineral rights is said to be "farming out" a portion of his acreage; while his counter-party is said to be "farming in." Pemex is following the farm-out model, although Pemex does not employ this term.
Pemex calls these contracts "integrales," a term that in English should be translated as "full-cycle": the farmee (as he is called) is responsible for all operations from exploration to well abandonment and decommissioning.
As would be expected, there are companies that specialize in farm-in contracts. One farm-in company was Challenger Minerals, Inc., a subsidiary of Transocean, Inc., which operated successfully around the world, but which was liquidated in 2012 as part of Transocean's post-Macondo restructuring. Petrofac, Ltd., came to Mexico several years ago with strong credentials as a farm-in company; and Petrofac has been awarded four of the blocks that Pemex has tendered since 2011.
The award of Pemex's third round of farm-out contracts is scheduled for July 11. The blocks are in an area still inhabited by indigenous peoples that is known as "Chicontepec," which is actually the name of a tiny village in the area.
In relation to its oil prospectivity, Chicontepec is a story of good news and bad news. The bad news is that Chicontepec is a non-conventional field in which the rock is very tight, with low porosity and permeability, and the oil sands are shallow and discontinuous; field decline is rapid. The good news is that in the acreage to be farmed-out, there are 3.2 billion BOE of 3P reserves, and undiscovered resources have been estimated at nearly one billion BOE. Recent experiments with horizontal wells and multi-stage fracking have produced much-improved results. Pemex says that of the 2,700 wells currently in production, some 20 of the new wells account for 10% of output.
So, for the company with savvy and an appetite for multi-stage fracking, a Pemex contract in the Chicontepec region could offer a reasonable commercial opportunity. The farmee will assume responsibility for drilling and related costs, and will be rewarded on the basis of a fee/barrel, plus cost recovery.
In our Market Note 111, "Pemex's Farm-out Program," dated February 2, 2012, we asked questions about how the effectiveness of the Pemex's farm-out program could be measured by the government, public opinion and the corporate board of Pemex itself. Obviously, one measure of effectiveness is increased production. The insert (at right) provides an indication of the increased production that is expected from the Chicontepec area. Pemex evidently expects farmees to contribute some 200,000 b/d by 2027.  In our report, we noted that Pemex has a policy of not reporting the individual or aggregate production of farmees (including those of the era of Multiple Service Contracts); should this policy continue (which is likely, for political reasons) the public will not learn if, by this important metric, the farm-out program is meeting expectations. Hopefully, it will.
DOWNLOAD MEI REPORTS RELATED TO INCENTIVE-BASED UPSTREAM CONTRACTS