Pemex's Farmout Strategy — International Expectations: The logic and terminology of Pemex's deep water strategy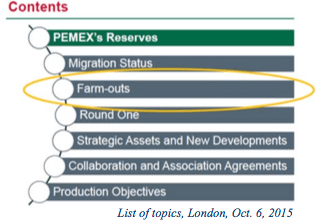 Public Policy Perspective 10036 — On account of the importance of this topic for the future of Pemex in deep water blocks, we are making this report a public policy document that is publicly available.
As far back as July 2014—three weeks before the promulgation of the energy reform legislation—Pemex told Reuters about its plans for farmouts, using a term that had scarcely been heard before in Mexico. During the following 15 months Pemex identified blocks that would be candidates for farmouts. Together, these blocks covered some 525,000 acres with an expected investment of some $50 billion. This report is an examination of the nature of a farmout agreement, its core concepts and terms. In a separate report, we shall examine the legal issues to be resolved before a farmout agreement can be signed.
Exhibit A is a glossary of key terms associated with a farmout agreement.
Exhibit B is a sample letter of inquiry from an oil company interested in a farmout.
Click Policy Perspective 10036 Pemex Farmout Strategy – International Expectations to download the screen edition.
Click here if you've not yet registered to receive email from Mexico Energy Intelligence, and wish to do so.