The Pemex auctions, held in Poza Rica on July 11, 2013, were for six blocks for which 16 companies had qualified as bidders. The outcome of the bidding was unusual in a number of ways:
The three largest blocks by 3P reserves did not receive bids.
The bids on the other three blocks revealed two strategies (Fig. 1).
One bid was probably the lowest in the history of the oil industry: US$0.01/bbl.
None of the three winners has experience as an operator of an oilfield.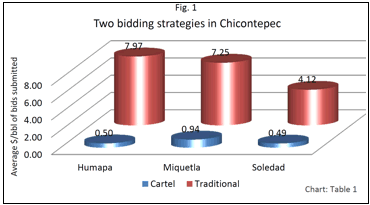 Market Note 171, "Pemex's Third Bid Round: Chicontepec," issued July 17th, examines these problematic commercial and policy dimensions of the Chicontepec auction. The table of contents and summary of this report may be downloaded here.
Our reports are distributed by subscription or by individual purchase. To purchase full report, add to bag below.