Five explanations—none convincing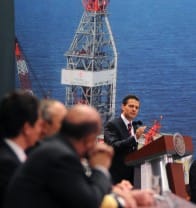 IN RELATION TO ENERGY, Mexico is the Kingdom of Indirect Speech. Any topic has an overtone, a trasfondo of the intertwined strands of history and the public mind that are associated with that topic. So it is with energy reform.
The government says that it wants to amend Articles 27 and 28, but it does not tell us why. The government says it wants to offer oil contracts to companies on the basis of shared profits, but it does not tell us why this form of association between the State and an oil company in preferable to other forms. In the absence of a statement of the macroeconomic and political intent, observers and stakeholders invent their own reasons for energy reform.
In the previous decade, starting in 2001, two PAN presidential administrations would say that their motive in proposing innovations related to contracts, corporate governance and public oversight was to "strengthen Pemex."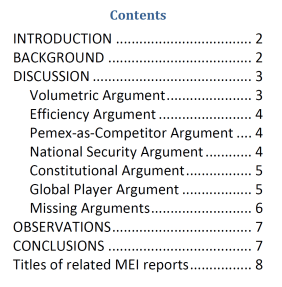 Today, that statement of intent has been muted: the current, PRI administration proposes to devise new contractual relationships that would by-pass Pemex.  Just this detail turns the conversation in a wholly new direction.
MARKET NOTE 178 examines the several rationales that re in circulation in Mexico for energy reform, none of which the government has formally embraced. The most frequently heard explanation is one driven by the numbers—that is, in relation to production, reserves and trade in oil and oil products. We call this rationale the "Volumetric Argument."
There are other arguments in circulation in Mexico that are identified and critiqued in this report (see Contents). In addition, we note that there are yet other arguments in favor energy reform that have not reached the level of public discussion; one of these refers to the need to create Pemex 2.0 that would be legally, financially and technologically equipped to operate outside Mexican jurisdictions.

DOWNLOAD CONTENTS FROM MARKET NOTE 178 AND RELATED REPORT TITLES
MEXICO ENERGY INTELLIGENCE® (MEI) is a commercial and policy advisory service offered by BAKER & ASSOCIATES, ENERGY CONSULTANTS, a management consultancy based in Houston. MEI reports serve as a bridge between the global energy conversation taking place in Houston and a very different conversation in Mexico. Our reports bring issues from the global conversation to Mexico, and we bring Mexican concerns to Houston. We examine policy, institutional and cultural issues as they affect the operating environment, energy regulation, and government and private investment in Mexico's energy sector. Reports are distributed principally on a subscription basis.